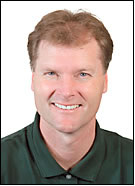 Ron came to Interbay 1999 having been the Head Professional at Fairwood Golf and Country Club for seven years. He became a Class "A" PGA Professional in 1990. He has worked successfully with several satellite tour players, top adult and junior amateur players and countless golfers who wished to improve their golf games.

Ron was the featured instructor on the Golf Channel's Golf Makeover Episode "No Laughing Matter". He released his first instructional DVD, "Golf in Balance" in 2005. He has been the featured instructor at numerous golf shows. In 2007, Ron was named by his fellow golf professionals "Teacher of the Year" for WWC PGA and in 2009 Golf Range Magazine's Top 50 Golf Instructors in America.

Ron has an innate ability to present vivid and understandable examples that enable students of all levels to understand and duplicate the mechanics of the golf swing. His patience and demeanor allow his students to feel comfortable and at ease in their golf experience. Ron looks forward to helping you with your golf game.
CLICK HERE TO BOOK A GOLF LESSON or call (206) 838-4549

rhanson@premiergc.com